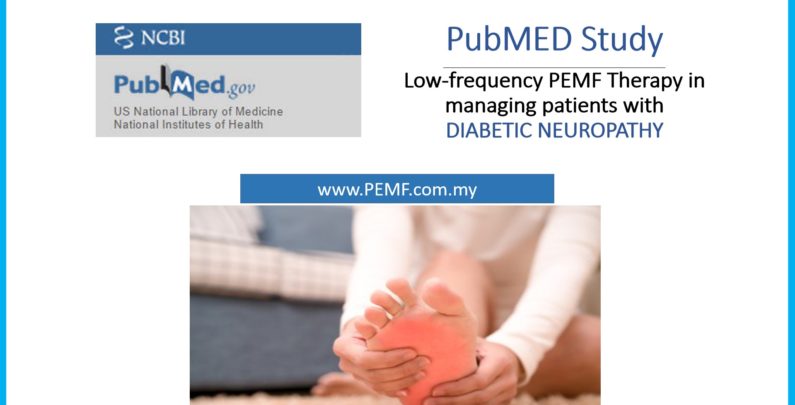 Low-frequency PEMF Therapy in managing patients with DIABETIC NEUROPATHY
The incidence of Type 2 Diabetes has increased significantly in the last few decades. Along with this development, there has been an increase in the incidence of Diabetic Neuropathy, which leads to progressive pain, loss of sensation (most often in the hands and feet), weakness, and disability. Peripheral neuropathy can impact daily life in frustrating ways, and damages to these nerves can worsen if not treated promptly. PEMF therapy can help to reduce the symptoms of neuropathy in a safe, convenient, cost-effective way.
This article introduces and discusses the efficacy of low-frequency pulsed electromagnetic field which induces quasi rectangular currents that can depolarize, repolarize, hyperpolarize neurons and can potentially modulate neuropathic pain and nerve impulse. It stimulates the cell power stations and enhances cell metabolism resulting in higher mucosal content of RNA, DNA and improves the microcirculation due to an increased release of calcitonin gene-related peptide-CGRP, a bioactive messenger responsible for the formation of capillaries in wound area.
INTRODUCTION:
Diabetic neuropathy is a common microvascular complication of diabetes over time and one of the major causes of non-traumatic amputations. A widely-accepted definition of diabetic peripheral neuropathy is "the presence of symptoms and / or signs of peripheral nerve dysfunction in people with diabetes after exclusion of other causes". Depending on criteria, DPN is estimated to occur in 50–90% of individuals with diabetes for more than 10 years. The impairment of peripheral nerve function in diabetic individuals should be regarded not as a neurological complication but as a neurological manifestation of the disease. It approaches 50% in most diabetic population, mainly with painful symptoms. It may present as symmetric polyneuropathies, focal and multifocal neuropathies and mixed form of neuropathy. Distal symmetric sensorimotor polyneuropathy is the most common type of diabetic neuropathy and is characterized by the progressive loss of sensation and less frequently, motor function in a distal to proximal gradient. Treating neuropathy is a difficult task for the physician and most of the conventional pain medications primarily mask symptoms and have significant side effects and addiction profiles.
AIM:
The study was carried out to evaluate and compare the effect of low power, low frequency pulsed electromagnetic field (PEMF) of 600 and 800 Hz, respectively, in the management of patients with diabetic polyneuropathy.
SETTINGS AND DESIGNS:
The study was a randomized controlled trial performed in Guru Nanak Dev University and Medical College, Amritsar, India with different subject experimental design.
MATERIALS AND METHODS:
Thirty subjects within an age group of 40–68 years with diabetic polyneuropathy stages N1a, N1b, N2a were randomly allocated to groups 1, 2, 3 with 10 subjects in each. Group 1 and 2 were treated with low power 600 and 800-Hz PEMF for 30 min for 12 consecutive days. Group 3 served as control on usual medical treatment of diabetic polyneuropathy (DPN). The subjects with neuropathy due to any cause other than diabetes were excluded. The pain and motor nerve conduction parameters (distal latency, amplitude, nerve conduction velocity) were assessed before and after treatment.
RESULTS:
Significant reduction in pain and statistically significant (P<0.05) improvement in distal latency and nerve conduction velocity were seen in experimental group 1 and 2.
CONCLUSIONS:
Considering its benefit and safety, low-frequency PEMF can be used as an adjunct in reducing neuropathic pain as well as for retarding the progression of neuropathy in a short span of time. The present study provides convincing data regarding the effect of PEMF on neuropathic pain and nerve impulse. 
To read the full PubMed Study
Contact us anytime, we are just a Phone Call away to assist you! Or simply just WhatsApp us now.